R. Legare. Sculptor. Wood carver. Ile-d'Orleans, Quebec. Active mid 20th century.
R. Legare. Maker of a pair of painted wood carvings. A Man and a Woman. About 15 inches high. Painted in glossy 'as found' colours. No other information is presently available for this artist. (An image is shown below.)*
*Image from the McCord Museum web-site.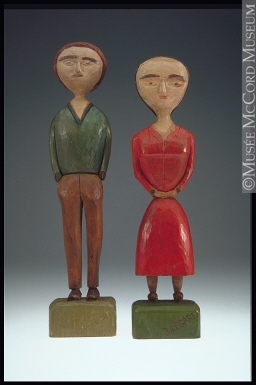 <a href="http://collection.mccord.mcgill.ca/en/collection/artifacts/M986.216.1B/" title="More information about this image"><img src="/ObjView/1408.jpg" width="256″ height="385″ alt="Sculpture | | M986.216.1B" /></a>